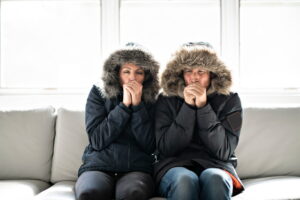 When your home's central heating system comes on in the winter, you expect it to heat the home. And, under normal circumstances, that's what it will do: send warmth around the rooms through a ventilation system so you enjoy an even spread of comfort all throughout the house.
There will be a few temperature fluctuations in rooms that are difficult to avoid, such as places that have less insulation or rooms higher in the house that may get a bit warmer from rising heat. But you can still expect an effective heating system to provide a generally even distribution of warmth.
Except that now you're discovering cold spots in your house when the heater is running. That's not right, and we're here to help you find out why so you can solve the problem with the proper heating repair or basic troubleshooting.