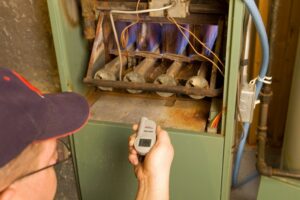 The weather is warming up, and you're probably not thinking much about your home's furnace. It's soon going to be the season of the air conditioner.
But we want to dwell on the furnace for one post more because there's something important you need to know about your furnace before it shuts down for the summer. And this is … don't skip any furnace repair just because it's already spring. If you've recently run into problems with your furnace, you'll feel tempted to procrastinate with calling us for furnace repair in Conway, AR. We understand why you might feel this way, but we urge you not to ignore the problem and call us as soon as you can to rectify it.
We'll explain why furnace repair is important, no matter the season.
You want to keep the furnace running safely
Whether you plan to use the furnace soon or not, a malfunction in it can cause the furnace to become hazardous. Maintenance and prompt repairs are the two best ways to ensure a furnace runs as safely as possible. If your furnace has a malfunction that's interfering with any of its safety features or which can cause a gas leak, you definitely want it fixed right away! Don't take any chances with this type of equipment—professional repairs are the best way to keep your furnace and home safe.
You need to be prepared for sudden weather shifts
Spring can be a temperamental season, and April can see abrupt changes to colder weather. If you have a furnace with a malfunction, it may not work for you if you need it again in the next two to three months. It's always best to know that any part of your HVAC system will go to work whenever you need it, no matter the time of the year.
You'll save money when you run the furnace
Almost any malfunction that affects a furnace will cause it to work harder when it runs. This lowers the furnace's efficiency and will result in higher energy bills for the end of the season. There's no reason to have to pay more for the periods you'll still use your furnace—and when cold weather comes around again in fall, you'll start off with an efficient system.
You'll keep the furnace from aging faster
A malfunction in a furnace can lead to other troubles elsewhere, and the general increase in strain on the system can cause the furnace to age quicker. Getting a small repair done now is much better than having to retire the furnace a few years too soon.
You'll find it's more convenient
When would you rather schedule a repair for your furnace? During a slow period in spring when you don't need to rely on its heat? Or in the fall when it's cold and you need the furnace running? We think everyone would prefer the first option. Taking care of repairs now is much easier than having to worry about them at the end of the year.
Dewees HVAC proudly serves the Conway area. Call us to handle any HVAC repairs you need—we're here to keep you comfortable!