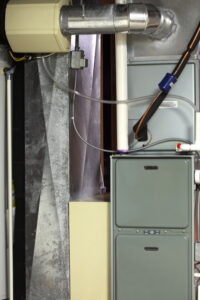 As we start to focus on the warmer weather and the coming summer season, it's easy to stop thinking about heating our homes. Yes, we may still need to have our heating systems run for a few more days before they shut down for the season, but most of our preparations for home comfort will center on our air conditioning systems. (This is a good reminder to schedule your AC maintenance before the summer arrives.)
But we want our customers to think a bit about the future of their heating systems as we transition from the seasons. Ask yourself: What's the next step for my heater when the fall arrives? We'll look into what this question means and some of its answers below, as well as what actions you can expect to take.
The future of your heating system
No home heating system lasts forever, and age can start to take a toll early on the heater if it doesn't receive the right attention. When you ask yourself what's next for your heater, think about its age, its recent performance, and what you want to get from it when it turns back on in fall.
Replacing the heater
This is the biggest possible "next step," and it's one reason why asking yourself early questions about your heater is so important. If it's time to arrange for a new heater installation in Mayflower, AR, you want to have it done before the cold weather arrives. That gives you plenty of time to schedule the service as well as think about what type of heater you need.
This is a big job, but if your heater is at or above its service life estimate or has become too expensive to continue to run or to repair, then this is the best choice. Early fall is a good time to have a new heater put in, but you can choose any time over the next six months.
Repairing the heater
Is your heater currently giving you some kind of trouble, or have you noticed something wrong with it during the last few weeks you've run it? Any warning sign of a malfunction with your heating system means the next step for the heater is already here: have it repaired! We urge all our customers to call us as soon as possible when they have a faulty heater. This helps keep the system safe and prevents the problem from worsening.
Maintaining the heater
If your heater appears to be in good shape and isn't too old, than the next step for it is the basic one, the one we hope you've done every year: have it professionally maintained. You don't need to have this service done right away—this is the time when you have the AC maintained. Your heater's maintenance comes in fall. But you can talk to our technicians about getting on the schedule for fall while they're at your house working on the AC. Or put a reminder on your calendar. It's the best thing you have done for a healthy heating system.
Dewees HVAC proudly serves the Conway area. Call us for all your AC and heating needs—we're here to keep you comfortable.