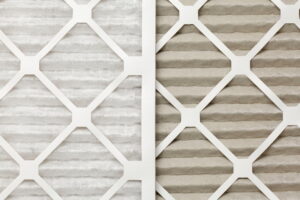 In our last post, we wrote about how you can use an ERV or HRV to bring fresh air into your house without also bringing in the heat or cold. This can help remove stale and stuffy air from your home, but today we want to talk about what you can do about those pollutants that are still trapped indoors, circulating through the HVAC system.
The most useful approach to cleaning the air in a house is to use air filters and air purifiers, often a combination of them. Air filters are a starting point, and from there a home may need a specific type of air purifier to help the filters provide the best air cleaning.
Beginning With the Filters
Air filters work on a simple principle: a mesh of fibers or other media traps particles that attempt to move through them on the air currents of the HVAC system. You already have one air filter in place in the HVAC system, which is the AC/furnace filter on the cabinet. This filter isn't to clean the air, however, but to protect the interior of the HVAC cabinet from dust and lint. If your house has trouble with poor air quality, you'll need a dedicated air filtration system put in place. Technicians must integrate it into the ductwork.
Filters can be extremely powerful, stopping pollutants smaller than 1 micron in size and working effectively for health care centers and clean rooms. But filters this powerful won't work with a residential HVAC system. There's a limit to how strong an air filter you can have in your home, and if it's over that limit it will block airflow from the HVAC system and damage it. Professionals can find the right filters that will trap the majority of pollutants without creating airflow restrictions.
Now Comes the Air Purifier
What if you can't have an air filter that's powerful enough to take care of many of the more harmful pollutants in your house? If the filtration system cannot stop volatile organic compounds, smoke, and microbes, what can you do? Install an air purifier in Jacksonville, AR. Air purifiers provide air cleaning without placing any restrictions on airflow. Air purifiers can use a range of methods to remove particles from the air, such as ionization, oxidation, and ultraviolet light. Our experts can find out which type of air purifier is suited to your home's air quality. For example, if you want protection against mold spores, bacteria, viruses, and microbes, then a UV air purifier is an effective method.
The Right Combo
When you have the right combination of air filters and air purifiers, it will remove more than 98% of the pollutants circulating through the HVAC system. You can trust our team to help you with the best indoor air quality systems. We are family-owned right here in Conway, and we back up our services with a satisfaction guarantee. All our customer service is highly personalized so you'll get the exact work you need.
Dewees HVAC proudly serves the Conway area—We're here to keep you comfortable. Call us for indoor air quality services.