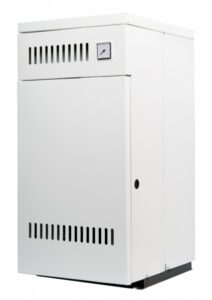 One of the big questions for home comfort is "repair or replace?" It's the "to be or not to be" of the HVAC world, but thankfully it has much easier answers. With the help of our Conway, AR furnace professionals, you can soon find out if it's a better choice to leave aside the repairs for your old furnace and schedule a replacement with us. We're dedicated to always doing right by our customers, no matter how hard it is, and we'll provide you with honest answers about your heating system.
Factors in Choosing to Replace a Furnace
When a furnace breaks down and no amount of repairs will get it back to work, then the question of whether or not to replace it is easy. Most of the time, the situation isn't so obvious. There are several important factors to consider when you have a faulty furnace and think perhaps it may be the time to get a new one:
Furnace age: How long can a furnace last? For gas furnaces, it's common to last up to and sometimes beyond 15 years, while electric furnaces often reach 20 years. Once your furnace has reached this age, you should start to consider replacing it as it shows other signs that it's declining. We don't recommend keeping a gas furnace for more than 20 years no matter the circumstances.
Cost to operate: A well-maintained furnace is designed to keep 95% of its original efficiency rating through most of its lifespan, only starting to decline in the last one to two years. You should only see an increase in your winter heating costs if the price of fuel goes up or your home has a reason to need more heat (such as extra guests or new additions). If your heating costs are steadily rising without explanation, then the furnace is probably close to the end of its life. Repairs won't be able to do much good at this point.
Cost to repair: A repair might keep an older furnace going for a few more years, but make sure the cost of the repair isn't so high that it's not worth it. How can you tell? One method is the "Rule of 5,000": a repair is too expensive if the cost of the repair times the age of the system in years is greater than 5,000. Any single repair that is more than half the cost of getting a new furnace is also too high.
Declining performance: If your furnace is struggling to reach its normal levels or the house is experiencing uneven heating, it may be in final decline. Our technicians can tell you if a repair can turn this around for long enough, but for a system that's over 15 or 20 years, a general decline means it's better to get a new system.
We'll give your furnace a careful examination and give you the best help in deciding how to go forward. Ethics and customer satisfaction are at the forefront of how we do business.
Dewees HVAC is a family-owned and veteran-owned and operated company serving the Conway Area. Call us for help with your home heating this winter.