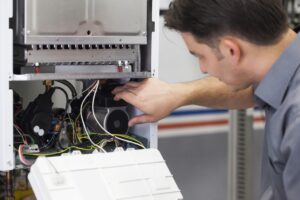 Getting a new heater installed seems very straightforward, but there's a lot of nuance that goes into it that you might not see on the surface. Heating installation has its difficulties that may not be apparent without the experience of an installation technician, so let's cover them for you now so you know what to expect during heating installation in North Little Rock, AR.
Incorrect Sizing
The size of your heater matters, just like it does for your air conditioner. You don't need a heater that's overpowered for your square footage, and you won't benefit from a small heater that may cost less to operate, but struggles to heat your house.
The size of your heater is important, and since most heating systems are 10-15 year commitments, this is a crucial element that you can't afford to leave to amateurs. We perform a pre-installation appointment to make sure everything is sized appropriately so your installation is set up for success right from the very start.
Poor Calibration
While it would be nice, no system is just fantastic out of the box. It needs to be calibrated properly and synced up with your thermostat. Your thermostat is the controller for your heater, so if it's not calibrated properly, it can make it look like your heater isn't doing its job properly (even though there's nothing wrong with it).
Calibrating your thermostat and making sure your heater is performing properly is part of the installation process. If a technician leaves and you don't have a calibrated heating system, it's not a good feeling.
Ignoring Manufacturer Specs
A new heating system comes with a warranty. However, that warranty may be voided if the installation isn't handled properly because then it's the fault of the technician. We know the ins and outs of the warranties that come with the machines we sell and service so we can prevent warranty problems for our customers.
If there is a true manufacturer defect that makes your unit break down prematurely, but it was installed improperly by a technician, then you're not covered by the warranty. This can feel like a real kick in the knee when you've purchased an expensive heating system.
Uncovering Poor Insulation
This isn't the fault of your current technicians–but it is a problem. When technicians handle a pre-installation appointment, they make note of the level of insulation in your home and around the ductwork. Poor insulation means wasted energy, which not only drives up your monthly bills, but can wear down your heating system faster than it should be.
It's Time to Install That Heater
We're here to make sure your heating installation process goes as smoothly as possible, from start to finish. Our dedicated, focused technicians know every potential problem to look for during heater installation, which is why we're your neighbor's favorite HVAC company. Let's get your installation started today.
Contact Dewees HVAC today to schedule your heating installation appointment as soon as possible.