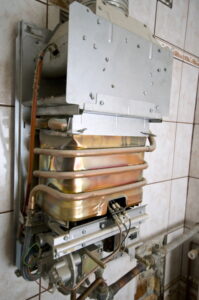 Getting a new heater for your home is a big job, but the good news is that you don't need to go it alone. In fact, you shouldn't go it alone! It takes professionals to accurately handle a heater replacement in Bryant, AR, and our technicians are the ones you can trust for the job.
We're going to address replacing your heater in two posts. First, we'll look at how to know if it's time to retire your old heater. In the next post, we'll talk about choosing the type of heater to replace your old one.
Knowing when to say goodbye…
That's a bit sentimental. Nobody becomes attached to a heating system as a special possession. But it can be difficult to know when to replace a heater because it's a significant investment. You want to make sure you're taking this step at the right time and not too early. You might be able to continue to use your heater for several more years with repairs. We'll go through ways you can determine that you're ready to replace your current heater.
The heater's age: This is the first place to start, because the age of the heater will affect how you look at all the other factors. Natural gas furnaces can last around 15 years, electric furnaces for 20, and heat pumps from 10 to 15. If your heater is above its estimated service life, it's time to consider replacing it—especially if you're noticing the other issues below.
The cost to run the heater: A heater that has regular maintenance will keep 95% of its original efficiency rating until the last one to two years of its service life. At that point, the efficiency will start to drop, and you'll see your heating bills begin to rise. Keep a careful watch on your utility bills each winter; when the heater becomes much more expensive to run and you can't account for why, it's probably in its final year.
Uneven heating: Do you have family members complaining that their rooms are colder than usual? Are you pushing up the thermostat higher than normal to get the whole house warm enough? These are signs of a heating system that's starting to fail. As heating capacity drops, more and more cold spots will appear in your house.
Excessive repairs: Repairing your heating system once every year is already too frequent. If you have to repair it twice in a year, that's a big warning that the system is deteriorating fast. Those repair costs will stack up, and that's money better spent on getting a new heating system.
Noise pollution: A heating system that makes a racket when it runs is sending the signal that it's not going to hang around much longer.
If you think it's time to replace your heater, call our technicians. We can help you make the final decision. We offer personalized customer service and we'll be honest with you about the best way forward for your home comfort.
Dewees HVAC proudly serves the Conway area. Reach out to us when you think you need a heating system replacement before winter.