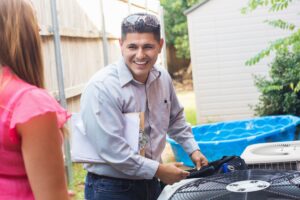 When it comes to getting a new AC, there are many factors to consider. With a variety of options available in the market, it can be overwhelming to decide which type of AC is right for your needs.
You need air conditioning installation in Benton, but with your own research and understanding of your options, you can ensure that you make the best decision for your home and your family. Here's what you need to know about getting a new air conditioner installed.
First, SEER2 Changes Everything
If you look at AC units, you'll find that there's little to no available inventory from 2022 or the year before. That's because manufacturers and installers have been required by law, under the Inflation Reduction Act, to stop the sales and installations of old air conditioners.
Now, manufacturing standards have changed. The old SEER system has been revamped into SEER2, requiring more energy-efficient products from manufacturers. This will impact prices on new installations for the foreseeable future, so be prepared for a little more sticker shock than usual when you search for new home air conditioners.
You Have Different Options
You don't have to stick with central air conditioning if you don't want to. You can make use of that ductwork by installing a heat pump instead of your standard AC cabinet. With SEER2 changes and rebate programs offered by the US government, you can actually get a new heat pump for surprisingly cheap.
You can choose ductless as well and ignore the ductwork in your home. You could choose geothermal, which works as heating and cooling. With the world opened up to you and more options available than ever before, how will you cool your home?
The AC Size Matters
If you've never had a new air conditioner installed before, it's important to know ahead of time that there will be a pre-installation appointment. This is where a professional technician will size the right AC for you and your home's dimensions.
This matters for a few reasons. For one, if an AC is underpowered, it'll constantly run and expedite the wear and tear that your system already endures. This can lower the life expectancy of your air conditioner.
A too-powerful AC has its own problems although they are less severe. It'll cost you more to run it than it would if the unit was appropriately sized.
Renew Your Comfort
Your comfort is extremely important. Finding the right air conditioner for your space isn't just as simple as picking a new air conditioner from a list because it sounds good–you have to make sure it's sized and makes sense for your home.
If you're having a difficult time exploring other types of air conditioner solutions, feel free to call us and we'll walk you through the pros and cons of each, as well as get you quotes for what they would each cost. You can also inspect our blog to find more information on other types of cooling systems.
Contact Dewees HVAC today to schedule your new air conditioner installation as soon as possible. Dewees HVAC proudly serves the Conway area.