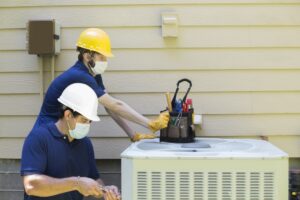 Most of the time when someone gets an air conditioner installed, it's to replace one that's already there but finally broke down after years of quality service. These are the steps that you, the homeowner, can expect from the AC installation process.
Air conditioning installation in Conway may seem daunting at first, but we make the process as simple as possible. Let's talk about everything you need to know about the installation steps.
Pre-Installation: The Home Visit
During your pre-installation appointment, one or more HVAC technicians inspect your home and existing AC unit to see which size you need before narrowing down the ones that are available to you.
This step is critical because installing an overpowered AC can actually be a bad thing. It'll cool your home down quickly, but it draws so much more power than it truly needs to.
On the flip side, an underpowered air conditioner runs into other problems. It has to run for longer to cool your home because it doesn't have enough power and output to cover the square footage of your house.
Either way you swing it, you want to make sure your air conditioner is the right size for your home above all else. Once your technicians know this step, they can move on to the next.
Getting Rid of the Old Unit
Installation day is here, and it's time to remove the old unit. As long as the connections are good, your technicians will keep those in place, although they may need to be replaced before the new unit goes in.
This could be anything from electrical wiring to ductwork; it all depends on how old and/or outdated the previous air conditioner was. While this can add some time to the installation process, it shouldn't extend it into a second day.
New Cabinet, New Outdoor Pad
That slab of concrete outside your home, the one that your AC cabinet sits on. Do you know what it does? It prevents your air conditioner from sinking into the ground.
Poured concrete doesn't need to be replaced every 10-15 years like your air conditioner does, but if your pad has cracks, it's sinking on one side, or there are other issues at play, then it may need to be replaced.
If this is the case, it'll be determined during the pre-installation phase (unless the issue was undetectable and directly under the old cabinet). Pouring concrete takes some time.
Setting Up the New Air Conditioner
Now it's time to get your new air conditioner all set up. With this step, the new cabinet gets dropped into place, hooked up, and your technicians begin testing it to see if it's working as planned.
This includes a post-installation inspection so they can make sure everything's set up the way it's supposed to be. Then they clean up the dust, debris, and their tools, then haul the old unit away, leaving you to enjoy your new cooled home.
You're Ready for that New AC
Now that the steps have been laid out before you, the process should seem a little less daunting. It's always best to know what to expect. You're just one installation process away from enjoying a nice cool, comfortable home.
Contact Dewees HVAC today to schedule your air conditioner installation as soon as possible.