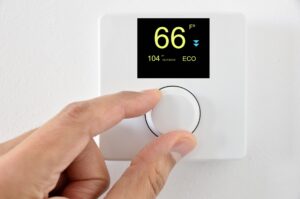 Home heating and cooling costs are often one of those expenses that we feel powerless to change. We know we need it, otherwise, we'd be miserable, so we just budget for it. But smart thermostats can help you lower your cooling costs and save you time.
No more fiddling with the thermostat and you save money. Sounds great, right? Smart thermostats in Conway, AR learn your cooling behaviors, so while you have to feed it a little bit of data to start, it quickly catches on and adjusts your heating and cooling for you.
Here are a few ways that these little marvels benefit your home and budget and can actually reduce the strain on your air conditioner and heater.
They Remember Your Preferences
Once your smart thermostat is installed, you have to give it some amount of data. It builds data based on your input, then takes it from there. We know it sounds like you can just toy with the thermostat on your own, but it does a few things that honestly just aren't worth your time as a homeowner.
It accounts for seasonal changes. Instead of you checking the weather every day, then manually changing the thermostat in the morning, afternoon, and night, your smart thermostat does it for you. And if it knows you like things on the colder side even in fall, it can avoid turning the heat on, etc.
Daily temperature changes simply aren't linear. When you change the thermostat, you're saying "It has to be X temperature for the next X hour" until you change it again. But that's not the most energy efficient way to do things. Your smart thermostat can account for it all.
Reduces human error. Ever wake up freezing because you left the AC on last night? If you left your AC on last night when you went to sleep, you used too much power. Even if it only turned on for a cycle or two as things cooled down, it's wasted money. Your smart thermostat automatically reads temperatures so these mistakes don't happen.
Your AC and Heater Don't Wear Down as Fast
Air conditioners and heaters eventually die. It's unavoidable. But what if you could limit the number of repairs in its lifetime? Or even get six extra months out of it?
The idea of a smart thermostat is that you won't run as many heating and cooling cycles because it accounts for and eliminates the excess amount of cycles you used to run through. Less operating time means less cost, but it also means less strain on your HVAC systems.
Save Smarter
Smart thermostats save you money and last for a long time. Once it's installed, it goes to work so you don't have to. Wouldn't it be nice to not only have one less thing to worry about around the house while saving money at the same time? We thought so.
Let's talk about setting up a smart thermostat in your home so you can have a few less things to think about when it comes to your home heating and cooling.
Contact Dewees HVAC today to schedule your smart thermostat installation as soon as possible.