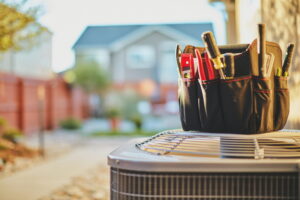 We have now officially entered spring, which is a special season for HVAC professionals like us. We do deal with far fewer emergency calls during this time since the weather doesn't veer often toward too cold or too hot. What we instead focus on is helping our customers upgrade their HVAC systems and handle maintenance for their air conditioners.
We want to talk about maintenance today because this service is so important that we want to ensure our customers remember to have it scheduled. Spring is the best time for you to have your home's air conditioner given a professional inspection and tune-up.
Why Maintenance Is Great
We are not overselling maintenance or trying to push an unnecessary service. Any good HVAC contractor recommends this service annually, as does the US Department of Energy. We consider maintenance one of the most important services we offer because it does more for customer happiness and comfort than almost anything else.
Let's start with the longevity of your AC. Maintenance is the best way to ensure your air conditioning system lasts for as long as possible. You can't expect any air conditioner to reach its estimated service life without maintenance—because regular maintenance is factored into that estimate.
Maintenance also prevents repairs and lowers the chance of emergency breakdowns. The majority of repairs that an air conditioner may need during its service life come from lack of maintenance. So when you keep current with this service, you've essentially eliminated more than 50% of the repairs you would otherwise had to pay for. And fewer repairs means you probably won't encounter a catastrophic problem that shuts down the whole AC—likely on the hottest day of the summer! (You know how these things work.) This peace of mind you get from this alone make maintenance worth the price.
You can expect maintenance to help you save money on your utility bills because it keeps the AC working at its best efficiency. Instead of gradually losing energy efficiency with each year, your air conditioning system will retain 95% of its original efficiency rating until the last one or two years of its service life.
Finally, regular maintenance is often necessary to keep the equipment warranty on your air conditioning system valid. If you void the warranty because of missed tune-ups and inspections, you could end up paying a lot for repairs or a replacement that the warranty would have covered.
AC Maintenance Is Easy With Our Preventive Maintenance Plan
Although you can take several maintenance steps on your own, such as changing the air filter and cleaning off the outdoor condenser cabinet, most of this service requires trained technicians. We're here to do the best job for you, and we make it easier with our Preventive Maintenance Plan.
When you enroll in the plan, you'll receive not only air conditioning maintenance in Conway, AR each spring, but heating maintenance in the fall. That's your whole HVAC system cared for every year. You'll enjoy special membership benefits, such as no after-hours fees.
Dewees HVAC proudly serves the Conway area. Call us today to learn more about our Preventive Maintenance Plan.