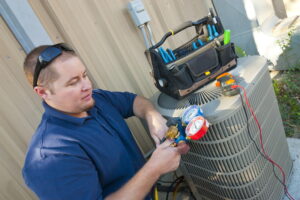 Spring may not bring an immediate end to colder weather, but it is the signal that the hotter temperatures are on the way—and soon we'll be enjoying summer!
And it's much easier to enjoy summer when you have an air conditioning system that:
Works when you need it to
Can provide the amount of cooling you and your family need for comfort
Won't cost far too much to run
Doesn't need to have repairs on a regular basis
Here's some good news: it's not hard to have an air conditioner that hits all these points. You only need to have the AC given professional maintenance each year.
During maintenance, technicians inspect the air conditioner, run tests on its performance, check the refrigerant level, and do a general tune-up (tighten electrical connections, clean and lubricate moving parts, remove dust from the control board, blow out drain lines, wash the outdoor coil, and much more).
AC Maintenance Offers You Many Rewards
If you keep up with annual spring maintenance for your air conditioning system, you'll enjoy many great advantages in both the long and short-term:
A long system life: Proper maintenance will get an AC to last from 10 to 15 years without losing cooling power. Lack of maintenance can cut the lifespan in half, leading to an expensive early replacement for the system.
Better energy efficiency: An energy-efficient air conditioner helps you keep monthly utility bills under control. When an AC has regular maintenance, it will only see about a 5% decline in efficiency over most of its service life. Otherwise, it can lose 5% of its efficiency every year. That can get expensive!
Avoid most repairs: The majority of repairs an air conditioning system might need during its service life are preventable with maintenance. And if the system does need to have repairs, maintenance will catch them early so they'll cost less to have fixed.
Enjoy better performance: An air conditioning system that's cleaned and tuned-up will work better at higher cooling capacity.
A warranty that stays in force: The equipment warranty that comes with an air conditioning system is contingent on the system having professional maintenance on a regular schedule. Missing maintenance can void the warranty, leaving you without this important consumer protection.
Peace of mind: This is maybe the best benefit of all. If you have your AC maintained before the summer heat arrives, you can relax knowing that it's unlikely anything will go wrong with it through the season. You can enjoy summer while the air conditioner does its job.
Schedule Your AC Maintenance Today!
We offer air conditioning maintenance in Sherwood, AR through our Preventive Maintenance Program. Along with the benefits above, you'll receive several excellent membership benefits, such as no after-hours fees and a lifetime warranty on parts we replace (some exclusions apply). In addition, you'll receive a maintenance visit in the fall to take care of your heating system: you're getting maintenance for your comfort all throughout the year.
Dewees HVAC proudly serves the Conway Area. Schedule your air conditioning maintenance with us today.